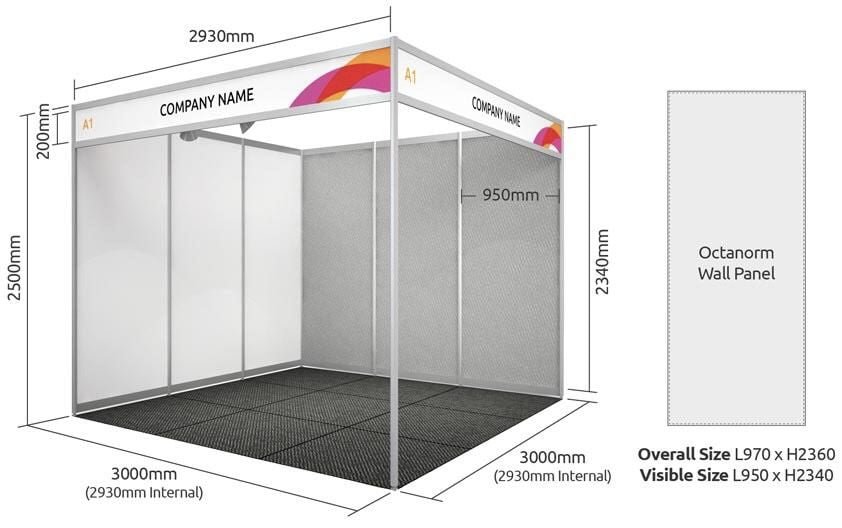 Exhibition stall for rent in Coimbatore by Orange Fabrication
Are you planning for an exhibition in Coimbatore? Then, renting octanorm exhibition stall could be a great option for you! Exhibition stalls not only provide a platform for your participants showcasing their products and services but also leave a lasting impression on potential customers. Orange Fabrication offers top-notch exhibition stalls for rent in Coimbatore that can help take your business to new heights. In this article, we will discuss the benefits of renting an exhibition stall, how to choose the right one for your needs and explore rental options available in Coimbatore. So, let's dive into it!
Exhibition stall for rent in Coimbatore by Orange Fabrication
Orange Fabrication provides top-quality exhibition stalls for rent in Coimbatore that can help exhibition or expos to make a lasting impression for the show or event. With years of experience and expertise, Orange Fabrication ensures that our clients get the best value for money.
Our exhibition stall rentals come with customisable options to meet specific requirements and create good experiences. From traditional octanorm stalls to custom-built designs, Orange Fabrication has everything you need to showcase your brand effectively.
Additionally, our team of experts is dedicated to providing excellent service by assisting clients throughout the process – from design layout to installation. WE also provide timely maintenance services during the exhibition period, ensuring seamless operations at all times.
With competitive pricing and exceptional quality standards, renting an exhibition stall from Orange Fabrication is a smart decision for any event or expo organisers looking for stall setup for their upcoming trade show or expo in Coimbatore!
The benefits of renting an exhibition stall
Renting an exhibition stall can be a smart move for businesses looking to make a splash at trade shows and events. Here are some of the benefits:
Firstly, renting a stall allows businesses to showcase their products or services in a professional and eye-catching manner without having to spend on purchasing one. It is also cost-effective as it saves you from investing huge amounts of money in creating your own custom-built stall which requires time and effort.
Secondly, renting provides flexibility as different events have varying requirements in terms of size, design and layout. This means that businesses can easily adapt their displays according to each event's specifications making it easier for them to participate in multiple events throughout the year.
Thirdly, renting eliminates storage problems after the event has ended since there is no need for companies to store bulky stalls when not being used.
By renting various types of stalls such as Octanorm structures from Orange Fabrication Coimbatore – companies get access to quality materials & support services that will help them create impressive displays even if they don't have much experience doing so themselves.
How to choose the right exhibition stall for your needs?
When it comes to choosing the right exhibition stall for your needs, there are several factors that should be taken into consideration. First and foremost, you need to determine the purpose of your participation in the event. Are you looking to showcase a new product or service? Or are you simply trying to increase brand awareness?
Once you have determined your purpose, it's important to consider the size and layout of the exhibition stall. You want something that is visually appealing and invites attendees inside for further engagement.
Another factor is whether you want a custom-built or pre-fabricated Octanorm stall. While custom-built stalls offer more design flexibility, they can also be more expensive. Pre-fabricated Octanorm stalls are cost-effective and easy to set up but may lack uniqueness.
It's also essential to ensure that your exhibition stall aligns with your branding, including color schemes and messaging. Adding interactive elements such as touch screens or virtual reality experiences can also help attract potential clients.
Choosing the right exhibition stall requires careful planning and consideration of various factors such as budget, purpose, design preferences, branding alignment and interactivity options.
Exhibition stall rental options in Coimbatore
In summary, renting an exhibition stall can be a cost-effective and flexible solution for businesses looking to showcase their products or services at trade shows or events. By choosing the right kind of exhibition stall for your needs, you can create a visually appealing space that attracts potential customers while also meeting your marketing goals.
If you're searching for options in exhibition stall rent Coimbatore, Orange Fabrication is a trustworthy provider with years of experience in the industry. We offer high-quality octanorm stalls that are customisable according to your specifications and budget. With Orange Fabrication as your partner, you can rest assured that your event presence will make a lasting impression on attendees and help you achieve success.
So why wait? Contact Orange Fabrication today to rent an exhibition stall in Coimbatore and take advantage of all the benefits it offers!