International Engineering Sourcing Show X – Stall Fabrication
March 16 @ 10:00 am

-

March 18 @ 6:00 pm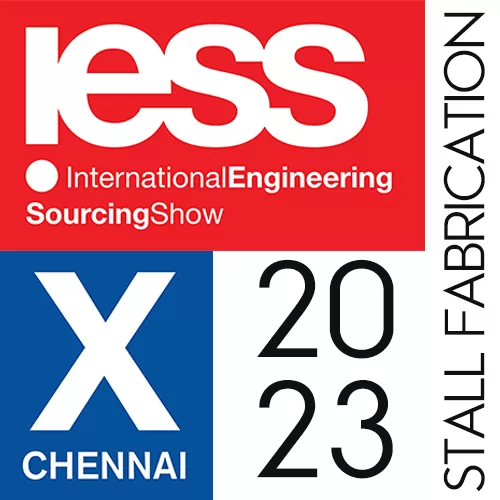 IESS – A platform to promote India as a Smart Manufacturing Hub
IESS – 10th International Engineering Sourcing Show
This is an annual event organised by EEPC focused on the engineering and sourcing industries. Further this event provides a platform for companies and organisations to showcase their products, services, and technologies and network with industry professionals. In addition, the event will feature exhibitions, keynote speeches, and conferences on the latest developments and trends in the engineering and sourcing industries.
About EEPC
EEPC India, or the Engineering Export Promotion Council of India, is a trade promotion organisation established in 1955. Formed by the Ministry of Commerce and Industry, Government of India. Also, its primary goal is to promote engineering exports from India. And enhance the competitiveness of the Indian engineering industry in the international market. EEPC India works closely with the Indian engineering industry, government agencies, and other stakeholders. And provides support and services to Indian engineering exporters. These services may include trade promotion activities, market research and analysis. Including export counseling, and organising trade fairs and exhibitions. Additionally, EEPC India works to enhance the business environment for Indian engineering exporters. Especially done by advocating them for policies and initiatives that support their growth and competitiveness.
About IESS
First, to establish India as preferred sourcing marketplace for engineering sector there is a necessity to move up the value chain. For high value precision engineering, both for domestic market and overseas exports.
By creating a market platform – International Engineering Sourcing Show (IESS), EEPC offers an opportunity for exporters of engineering product and services to build business contacts with leading importers, buyers, dealers, distributors, and wholesalers of engineering product from America, Europe, Africa, Latin America, ASEAN, Australia, New Zealand and CIS Countries.
IESS showcases India as an 'Outsourcing hub' for the engineering industry and sourcing opportunity for a wide range of high-quality engineering items at very competitive rates.
International Engineering Sourcing Show (IESS) has established itself as the ONLY sourcing show of our India we look forward to welcome you at the show.
We Fabricate Stalls in IESS 2023
Orange stall fabrication known for its best creative stall designing and fabrication at all major expos in India. May it be Build Intec, Aero Show, or IESS, we make sure your brand presented uniquely, colourfully, and majestically. We do different types of stalls in expo. Meantime, our stall designing team will work on branding, colour presentation, view point presentation, and space management. For more details, reach out to us.
We are an company of Orange Art Factory – Event Management & Cinema