ACMEE 2023 – Chennai Trade Center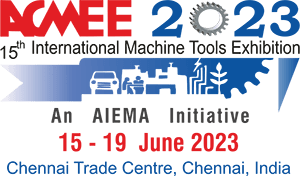 ACMEE 2021
India's Premier International Machine Tools Show, 14th in the series, was successfully organised in Chennai Trade Centre, Chennai during 9-13 December 2021.
As many as 405 companies including 100 foreign brands through their Indian channel partners, participated in the event spread over 18000 sqm space.
Hon'ble Chief Minister of Tamil Nadu had consented to be the Chief Guest at the Inaugural Function but could not attend the Inaugural Session as he was held up in Coimbatore following the unfortunate helicopter crash in Nilgiris. Thiru Thangam Thennarasu, Hon'ble Minister for Industries, Govt of Tamil Nadu Inaugurated ACMEE 2021 in the presence of Thiru T.M. Anbarasan, Hon'ble Minister for Rural Industries, Government of Tamil Nadu.
In tune with the event's theme of Smart Manufacturing, the participants presented a wide variety of machine tools adapting information technology in machinery designed to monitor production processes, automate manufacturing and the use of data analytics to improve manufacturing processes. A special focus was on appropriate technology for MSME. Live demonstrations and product launches were also among the other highlights of the Show.
The publicity campaign on ACMEE 2021 was specially designed to attract appropriate visitors viz decision makers, purchase professionals, engineers and management professionals. Communication channels were social media, personalised invitations to top industry professionals after collecting data from a number of sources, besides the usual ads in print and electronic media. This paid rich dividends and as per the registration details as many as 36540 business visitors visited the event.
ACMEE 2023
As per the feedback collected from Participants almost all…99% of the participants were very happy with ACMEE 2021 and have indicated their willingness to participate in the next edition of ACMEE scheduled during 15-19 June 2023. The participants were very happy to receive quality visitors at the Show. The visitors were equally thrilled to see the Machine Tools and Technology relevant to their scheme of manufacturing. A win-win situation for both the exhibitors and visitors.
It was really a very satisfying experience to receive the excellent positive feedback from both the exhibitors and visitors alike… all pointing to the hard work and devotion of the ACMEE 2021 Team.
It is also gratifying to note that the economy is on the upward movement and the impact of Covid is well behind us.
Click Here for Glimpses of ACMEE 2021…)
Learn More About ACMEE 2023
Want more clarification?
Please don't hesitate to call us or mail us. 9003631393 or mail us at reachus@stallfabrication.in
Orange Fabrication Is A Company Of Orange Art Factory – Event Management Company