Orange Fabrication The Best Stall Fabricators in Kochi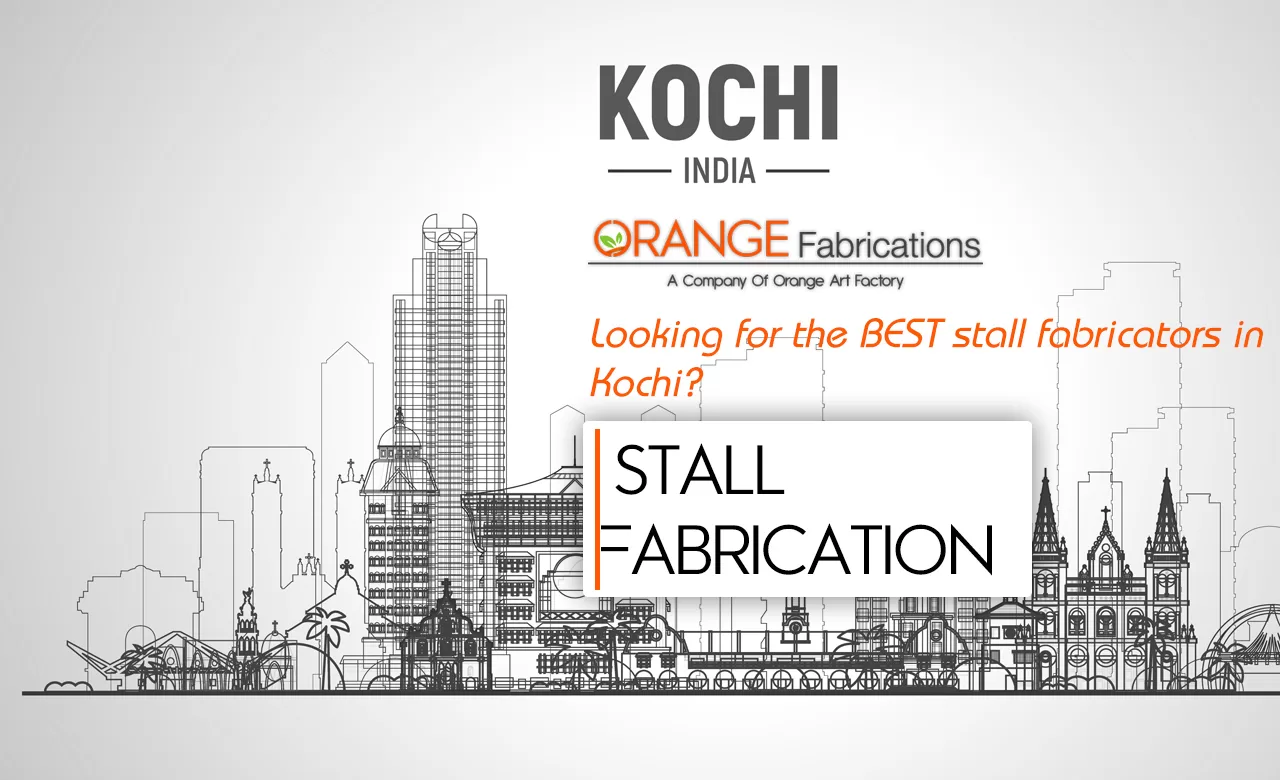 If you are on the hunt for the best stall fabricators in Kochi, Orange Fabrication is where you want to be! We offer great services and quality craftsmanship at an affordable price. With our team of experts and commitment to customer satisfaction, you can trust that your stalls are in good hands.
We Are Orange Stall Fabrication.
Identify Your Needs For Best Exhibition Stand.
Before you get started with Orange Fabrication Kochi, make sure to identify your needs and discuss them with our team. Meantime, determine the size and style of your stall that best fits your branding and personalisation needs. Moreover, discuss with Orange Fabrication about what materials would be most suitable for your display booths. Last but not least, make sure to determine any budget concerns that need to be taken into account during the design process.
Choose A Reputable Stand Fabricator In Kochi.
Orange Fabrication is one of the leading stall fabricators in Kochi. We have a proven track record of delivering the highest quality, durable and visually attractive exhibition structures. Moreover, with our wealth of experience and expertise, you can be sure that your display stalls are built to meet all your needs – from design to materials to cost. When selecting a stall fabricator in Kochi, make sure to go with Orange Fabrication to get reliable service and quality!
Plan Out Your Layout and Design For Expo.
Before beginning construction, it's important to plan out your layout and design. Firstly, by doing this, you can ensure that your exhibition stalls are made with precision and optimally use the available space. As experienced stall fabricators in Kochi, Orange Fabrication can work with you to design a beautiful and functional stall. Meantime, we can provide advice on what materials to use, how to structure the stall, and any other details you need to make sure it stands out from the rest.
Get Estimate and Finalise Budget For Your Exhibition Booth.
Working with Orange Fabrication ensures that you get the best possible exhibition stall for your budget. However, we will provide an estimate for the cost of materials and labour depending on your requirements. So you can finalise a realistic budget for the project. This way, you know how much money you're investing in the fabrication of your stall and won't have to worry about any hidden costs along the way.
Discuss Your Customisation Options For Exhibition Stall With Us.
Orange Fabrication will be happy to work with you to create the perfect stall for your needs. During the consultation, you can discuss all of your customisation options with us. And get advice on how best to use the available space to make an eye-catching display. From choosing the right colour materials and fabric to adding special features like lighting or audio systems, we can help you create a truly unique stall.
Want more clarification?
Please don't hesitate to call us or mail us. 9003631393 or mail us at reachus@stallfabrication.in
Orange Fabrication Is A Company Of Orange Art Factory – Event Management Company